I once noticed a (presumed) atheist make the following statement during an unrelated discussion about Buckminster Fuller:
Fuller did contribute some interesting stuff but some of his ideas were unworkable. That's pretty common for most contributors/geniuses. Look at Einstein: some cool research, but he was highly disruptive in other areas (eg. quantum mechanics or putting religious beliefs before science).
Einstein was one of my childhood heroes so I wasn't about to let that go unchallenged:
Einstein's contributions to quantum theory ranged from groundbreaking (e.g. the photoelectric effect) to unintentionally insightful (e.g. entanglement in the EPR paper) to playing a vital role as devil's advocate (e.g. Bohr-Einstein debates). Disruptive? I can't say I agree.

Putting religious beliefs before science? That's a claim I really don't understand. If there's anything I've learned by reading about Einstein's views on religion, it's that he was the quintessential scientist even in this respect. He didn't subscribe to any known organized religion, but vehemently refused to rule out the possibility of the existence of God- and found atheists arrogant for doing so. His religious views seemed to lie somewhere between pantheistic and agnostic, and I see no evidence that they affected his scientific work.

Perhaps you're referring to the famous quote "God does not play dice". I don't think this quote expresses a religious belief as much as it articulates a "gut instinct" about the way the universe worked: that it's fundamentally deterministic. Of course, being Einstein, he had to word it in a deliberately provocative fashion. I think gut instincts have a real place in science- they can often be useful starting points for hypotheses, or used to guide an investigation in a direction that you only grasp subconsciously at first. The only real restriction is that you need to be able to recognize when experimental evidence has proven your gut instincts wrong. I don't think he lived to see this point– local hidden variable theories hadn't been experimentally ruled out by Bell inequality experiments before he died.

And– in bit of a technical detour– I'm not even sure he really was wrong to insist that the universe is deterministic. Even though the standard interpretation of quantum mechanics contains an element of randomness (the very randomness that Einstein railed against), the Everett-Wheeler interpretation says otherwise. The "many worlds interpretation", as it is often called, asserts that random collapses merely look random from within our own "branch" of a larger wave function that encompasses many universes. If you were somehow able to view the entire wave function, it would look completely deterministic. The only reason we see randomness in quantum "collapse" is because our macroscopic detectors (such as our eyeballs) induce decoherence in quantum states that cause environmentally-induced superselection.

(Explaining that paragraph in English would take many pages, so if you're curious I suggest you use those words– plus the abbreviation einselection– to do some googling.)
I soon received a reply, but not from the same person. Anonymity plus controversy sometimes equals incivility:
B O L L O C K S !

Bucky Bollocks, even.

but [Einstein] vehemently refused to rule out the existence of God- and found atheists arrogant for doing so.

Wrong. Either you're ignorant or you're altering the facts to support your own worldview.

If I wasn't an athiest before, reading the bullshit shovelled by people like you make Athiesm seem to be the only sensible option for the sane and intelligent.
At first I was irritated, but I slowly realized that this was probably a kid. Sniping back suddenly seemed kind of like kicking a puppy, so I tried to craft the most constructive response I could:
At the risk of responding to a troll, I was referring to quotes like the following:

In the view of such harmony in the cosmos which I, with my limited human mind, am able to recognise, there are yet people who say there is no God. But what makes me really angry is that they quote me for support for such views. [Albert Einstein]

So now I've shared the sources for my statement. Care to share yours?

By the way, what makes you think I have a worldview bias? I regard myself as a "teapot atheist" (in the sense that Dawkins uses the term) but I think I'm leaning towards agnosticism simply because I'm committed to following the scientific method in every aspect of my life. In a theological context, that means I simply can't come to any specific conclusion about God without sufficient evidence. From what I can tell, Einstein and I are pretty much in agreement on this point. (Not that it matters- appeals to authority are very weak forms of evidence.)

On a more personal level, I humbly recommend that you change the tone you use to debate. While it's certainly true that some people do alter facts to support their worldview (geocentrists, young-earth creationists and scientologists are glaring examples, IMHO), it's seldom productive to explicitly point that out. Furthermore, if you fly off the handle at the slightest provocation and hurl that accusation around, people will regard you as "the boy who cried wolf." It's usually more effective to politely ask the person to provide the sources for their statements.

And, quite frankly, accusing people of "shoveling bullshit" is simply insulting. If I weren't already a non-theist, your condescending attitude would've simply convinced me that atheists are arrogant, loudmouthed jerks. When you act this way, you make all non-theists look bad. I'm actually considering the possibility that people like you are, in fact, fundamentalists posing as atheists to reinforce the "obnoxious atheist" stereotype.

Oh, and it's "atheist." Spelled just like it sounds. The more you know…
---
I later found these quotes which I think are relevant as well:
"The most beautiful and most profound experience is the sensation of the mystical. It is the sower of all true science. He to whom this emotion is a stranger, who can no longer wonder and stand rapt in awe, is as good as dead. To know that what is impenetrable to us really exists, manifesting itself as the highest wisdom and the most radiant beauty which our dull faculties can comprehend only in their primitive forms – this knowledge, this feeling is at the center of true religiousness." [Albert Einstein]
"I have repeatedly said that in my opinion the idea of a personal God is a childlike one, but I do not share the crusading spirit of the professional atheist whose fervor is mostly due to a painful act of liberation from the fetters of religious indoctrination received in youth. I prefer an attitude of humility corresponding to the weakness of our intellectual understanding of nature and of our own being." [Albert Einstein]
Anyway, I now identify as a weak agnostic to distance myself from these rabid anti-evangelists. I probably should have been agnostic all along for purely philosophical reasons. My earlier strong atheist position was– in hindsight– arrogant and naive. It's taken me nearly 30 years to become comfortable with the fact that I simply don't know.
---
Update: Many of the comments are referring to the following ad: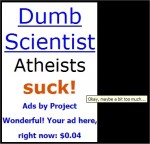 This was my first attempt at advertising, so obviously I made some mistakes.
For instance, if I had to do it over… I'd have spelled it "Athiests" instead. That way in addition to angry atheists, I'd also have angry grammar nazis clicking it.
Ah, well.
Last modified March 19th, 2013