One surprising consequence of Einstein's special theory of relativity is that any signal traveling faster-than-light (FTL) can be used to send a message to the past. Special relativity divides the entire universe into three distinct regions as seen by any observer:
The timelike future contains all points where you could be in the future if you could travel at any speed up to and including the speed of light.
The timelike past contains all events that could possibly affect you right now.
"Elsewhere" contains all other events. One example of an event in Elsewhere would be the status of the satellites orbiting Mars right now. Their status right now is unknowable on Earth because there's about a 30 minute light travel time delay. Importantly, FTL communication affects events in Elsewhere.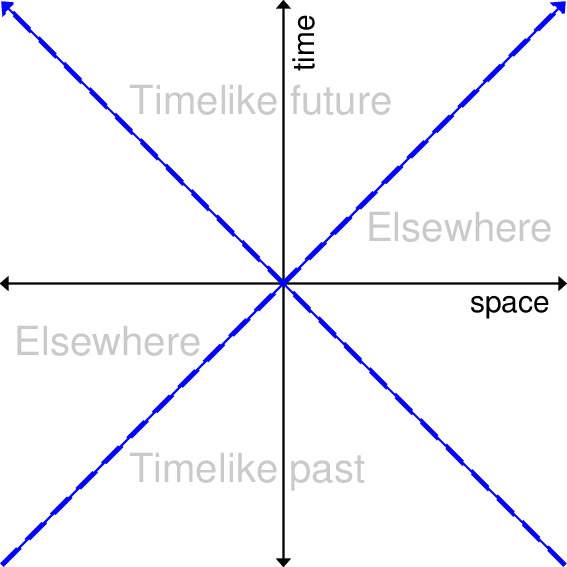 Spacetime diagrams are just plots of any object's position (in one direction only) versus time. I'll call the object "Bob" and decree that he can only move to the left or right. Conventionally, these diagrams measure time on the vertical axis (which I call the time axis) and Bob's position on the horizontal axis (which I call the space axis). This means that Bob's speed in the left or right direction is expressed by the angle formed between the vertical (time) axis and the line he traces out on the diagram as he moves. Higher speeds translate into larger angles away from the vertical axis. Time and space are also conventionally measured in units chosen so that if Bob (somehow) manages to travel at the speed of light, his path would trace out a line that perfectly bisects the angle between the time and space axes. In other words, light beams trace out lines that make an angle of 45˚ with the time axis.
There are some important lines on the spacetime diagram that radiate out from the origin (the point where position=0 and time=0, otherwise known as "Bob's current position"):
Vertical lines represent Bob when his speed is zero- when he's standing still. He's not moving in space, but he is moving inexorably forward in time. Thus, the vertical (time) axis points up towards "the future" and is defined by the path traced out by Bob when he isn't moving.
The lines at 45˚ away from the vertical (time) axis represent the path traced out by the light from Bob's flashlight as he shines it to the left and right.
Lines at much smaller angles could represent Bob when he's running to the left or the right.
Lines at angles greater than 45˚ away from the time axis would represent something going faster than the speed of light, such as the proposed FTL signal.
A horizontal line pointing along the space axis represents infinitely fast motion, such as the signal from an instantaneous communication device. It's more useful, however, to think of the space axis as the set of all events in the universe that are occurring right now. In other words, the horizontal (space) axis defines what Bob considers "the present."
Imagine Bob is standing at the origin of the spacetime diagram. His timelike future on the diagram looks like an inverted triangle. Its sides are physically defined by the path traced out by light (headed to the left or the right) that leaves Bob's flashlight at time=0. Bob's timelike past is an upright but otherwise identical triangle. His timelike past is physically defined by the path traced out by the light from distant stars that happened to hit Bob's eyeballs at time=0.
So far, so good? Good. Here's where it gets weird.
According to relativity, every observer in the universe has to measure the speed of light (in vacuum) to be exactly the same speed regardless of the observer's velocity. Although this may seem like an innocuous statement, it's not hard to come up with a scenario where the consequences of this little rule can blow your mind. For instance, imagine Bob is in a spaceship traveling away from Alice at half the speed of light when she shines a flashlight at him. Alice measures the speed of the light leaving her flashlight to be the speed of light- a sensible result. But consider this: when the light from Alice's flashlight reaches Bob and he measures its speed, what speed will he measure? Most people (myself included) want to say that Bob's measured speed will be "missing" his relative velocity- that his measurement will reveal the light to be traveling at half the normal speed of light. This sensible, intuitive answer is simply wrong; he measures the light to be traveling at exactly light speed. How is it possible that both Alice and Bob measure exactly the same speed of light in this situation?
In order to answer this question, it's important to realize that in special relativity all motion is relative. Bob can draw a spacetime diagrams with axes that center on him, but so can Alice. The diagrams they make will be different, but keep in mind that they're both correct. Alice and Bob have equally valid claims[1] to being "at rest" once Bob's spaceship stops accelerating and starts coasting at constant velocity, so neither of the diagrams is "the right one." This means Alice has to be able to draw a spacetime diagram for herself that explains why she measured the speed of light to be the correct value, but she also has to draw Bob's spacetime diagram from her perspective in a way that explains why Bob measured the speed of his flashlight beam to be the same correct value she measured.
So, what would Bob's spacetime diagram- his particular set of time and space axes- look like from Alice's perspective? To start with, she'd draw her time axis as a vertical line, and her space axis as a horizontal line. She can draw her own axes however she wants, but these are the simplest choices. Now suppose Bob's spaceship is heading to the right. When Alice draws a spacetime diagram, Bob's position at various times traces out a line that makes an angle of 22.5˚ to the right of her time axis (because he's traveling at half the speed of light, and half of 45 is 22.5). But when Alice draws Bob's time and space axes, how should she draw them?
When I first tried to draw Alice's version of Bob's spacetime diagram, I simply drew a vertical line through Bob's position and called that his time axis, then I drew a horizontal line through Bob's current time and called that his space axis. Basically, all I did was redefine the zeros of Bob's coordinate system so that he was at the intersection of the two axes.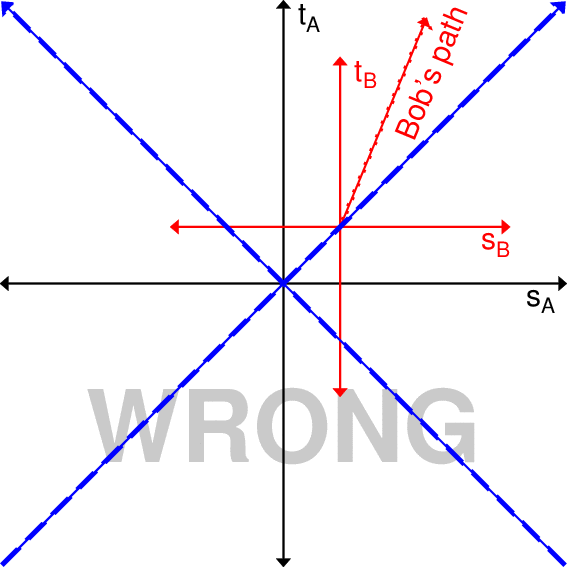 Then I slowly remembered that Bob defined his time axis by the line he traced out when he wasn't moving. It also dawned on me that he's perfectly justified to consider himself "at rest" as long as he's sitting in his chair in the spaceship which is traveling at a constant velocity. Therefore, Bob's time axis is actually tilted to the right of Alice's time axis by exactly 22.5˚. From Alice's perspective, Bob's time axis is the same as the path traced out by his position at various times. I didn't see any reason to alter Bob's space axis, though, so I left it perfectly horizontal at first.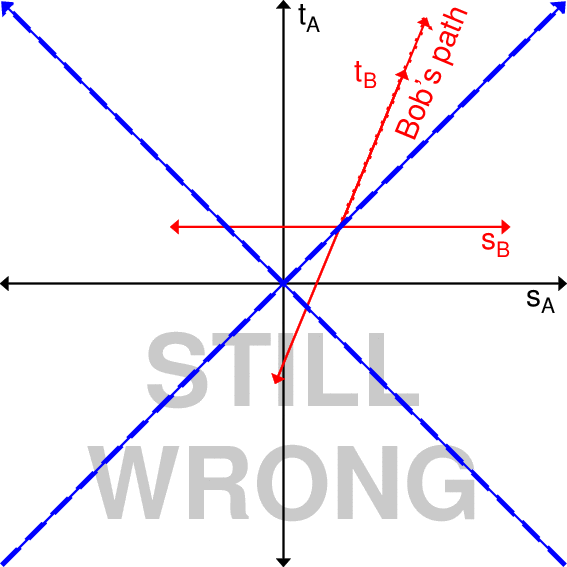 The insight that Bob's time axis as drawn by Alice is tilted by his velocity is a form of relativity, but it's commonly known as Galilean relativity because Galileo published it in 1632. Unfortunately, allowing Bob's time axis to tilt from vertical (as Alice defines her time axis) towards the 45˚ line that represents light speed implies that Bob measures light speed to be different than what Alice measures it to be. This discrepancy occurs because an observer measures an object's speed by the angle it makes with the time and space axes. Since Alice's and Bob's time axes are no longer parallel, they no longer agree on the speed of light. Based on experimental results available as early as 1887 which showed that all observers must agree on the speed of light, this disagreement is a serious problem.
Einstein's famous solution- special relativity- was to tilt Bob's space axis "counter-clockwise" by 22.5˚, the same angle that Bob's time axis tilted. In other words, Alice tilts Bob's space axis towards the light speed line by the same angle that Bob's time axis tilted towards the light speed line. By applying a tilt to Bob's space axis that's equal and opposite to the tilt of his time axis, Alice has insured that the line representing light speed perfectly bisects the angle formed by Bob's time and space axes. As a result, Bob measures the speed of light to be "light speed" because the line representing light speed is midway between his time and space axes. Thanks to Einstein, Alice and Bob agree on the speed of light.
Unfortunately, as a result of this small change, Alice and Bob now disagree about something more fundamental. That is, they disagree about what set of events constitute "the present." Remember that each observer's space axis effectively defines what they consider "the present." When Alice tilts Bob's space axis in order to draw his spacetime diagram from her point of view, she is implicitly saying that his definition of the present is different than hers!
It may seem like Einstein solved a small problem (that Alice couldn't draw Bob's spacetime diagram in a way that allowed them both to agree on the speed of light) only at the cost of creating a bigger problem which violates common sense so thoroughly that Einstein simply must have been mistaken. And it's certainly true that relativity violates common sense in other ways. The important point to remember is that special relativity has been making these extravagantly nonsensical claims for over a century, and so far every experiment performed supports special relativity's bizarre predictions.
So how could an FTL signaling device send a message to the past? Suppose Alice and Bob both have FTL communications devices, and Bob has a spaceship with powerful sublight engines. In this scenario, Alice could stay on Earth and send a message to her own past. Here's how it would work:
Bob gets in his spaceship and travels directly away from Earth at 90% light speed for a year. The speed and travel time aren't really important; increasing either of them just sends the message deeper into the past.
Alice, on Earth, sends Bob an instantaneous message using her FTL communication device. It travels to Bob along Alice's space axis – the line in her spacetime diagram that goes through her present position and on through Elsewhere, to define "the present." It's not necessary for Alice's communication to be instantaneous, but I think it makes the argument a little clearer. Instantaneous signals might seem more outlandish than signals traveling just slightly faster than light speed, but there's no qualitative difference according to special relativity.
Bob receives the message at the exact instant (according to Alice's timeframe) that she sent it, even though he is almost a light year away. He then immediately sends the message back to Alice using his FTL device. However, Bob is traveling at 90% of the speed of light, so his space axis is sharply tilted away from vertical- it actually intersects Alice's "timelike past." Bob's "instantaneous" signal- which travels along his space axis- reaches Alice before she even sends that message to Bob in the first place.
Alice sent a message to her own past using Bob's spaceship as a relay. Notice that this argument doesn't refer to the particular method of FTL signaling. The FTL communications device could be literally anything- a tachyon transceiver, a traversable wormhole, a ship with an Alcubierre drive, or something more exotic. The details simply don't matter- any FTL signaling device can be used to send messages to the past. This argument can only fail if special relativity is wrong. For instance, a preferred frame would break this argument.
---
Footnotes
Objection: Alice and Bob were originally at rest on Earth, but Bob definitely felt the ship pushing against his back as it accelerated up to its high speed, so he must know that he's the one who's moving, not Alice. Alice's diagram is therefore correct, Bob's is wrong, and special relativity is just nonsense.
Response 1: Why choose Earth as the official "rest frame" of the universe when there are better choices? For instance, Bob could determine Earth's velocity (~370 km/s) relative to the CMB (loosely translated: "echo of the Big Bang"). By accelerating in the opposite direction of that velocity, he seems to have a more valid claim to being at rest, because the CMB is a relic of creation itself. But, if relativistic effects actually depended on which direction Bob accelerates, those effects should exhibit anisotropy (which hasn't been observed).
Response 2: Somewhat more whimsically, Bob could claim that he was only firing his engines to counteract a powerful but brief gravitational field that pulled every object in the universe in the same direction. Bob noticed this field (somehow) and accelerated in the opposite direction just to "stay at the same point." Note that Alice wouldn't have felt any effects because the field would affect everything at once, the same reason weightless training flights are possible.
…anyone have a better response? ↩ back
Last modified May 8th, 2014