The overwhelming majority of scientists endorse this statement:
"Most of the observed increase in global average temperatures since the mid-20th century is very likely due to the observed increase in anthropogenic greenhouse gas concentrations." [IPCC Summary for Policymakers, 2007]
Here, "most" means at least 50% of the 0.55°C rise since 1950. Some mistakenly call this an "alarmist exaggeration" but it actually understates the human contribution because it's easy to incorrectly conclude that the other 50% of the trend might be caused by natural forcing variations: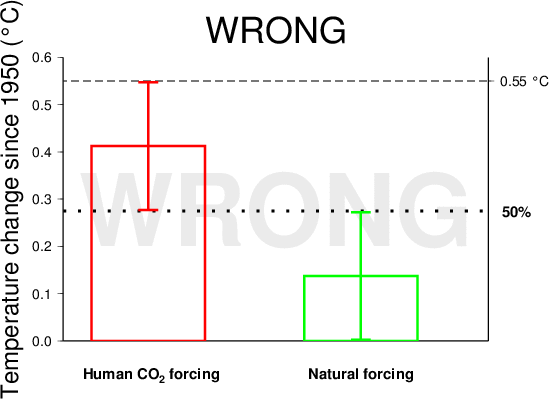 Actually, the percentage of the observed temperature trend due to natural forcing variations (changes in the Sun's brightness or volcanic eruptions, etc.) can't be as large as 50%. In fact, the trend due to natural forcing variations since 1950 is nearly zero.
The percentage of the observed temperature trend due to human CO2 emissions is probably higher than 100%. This is possible mainly because humans emit greenhouse gases like CO2 which warm the surface over the long term, and sulfates which cool the surface over the short term. Upper and lower uncertainties are also shown: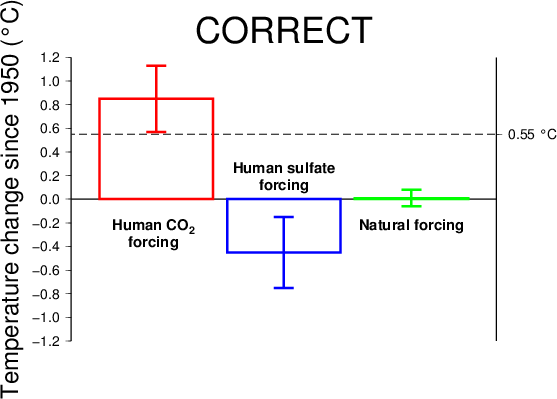 Source: Huber and Knutti, "Anthropogenic and natural warming inferred from changes in Earth's energy balance," Nature Geoscience, vol. 5, pp. 31-36, 2012.
Some say we should increase sulfate emissions to compensate for the long-term warming due to our CO2 emissions. However, the CO2 would still acidify the oceans, which probably caused mass extinctions in the past. For instance, 250 million years ago, 90% of all species on Earth died. This "end-Permian" extinction was preceded by massive emissions of greenhouse gases, including CO2. This ancient evidence is uncertain, but even the highest estimated end-Permian emission rate is ∼ 10x slower than the modern human emission rate: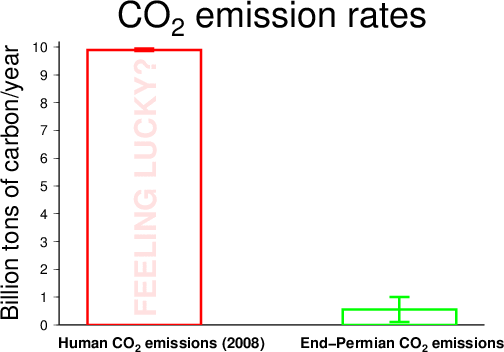 Source: Honisch, et al., "The Geological Record of Ocean Acidification", Science 335, 1058, 2012.
A printable version of this article is available.
Here's an index of comments:
Last modified May 18th, 2013